E-bike, what is that?
Everyone knows biking, but what is an e-bike? And what is an e-mountainbike?
An e-bike is an electric bike that will help you with the pedaling whenever you need it, both uphill and downhill. An e-mountainbike is an electric mountainbike which works in the same way as an ordinary e-bike, but also takes you to places you only dreamed of biking to, because of the hard terrain.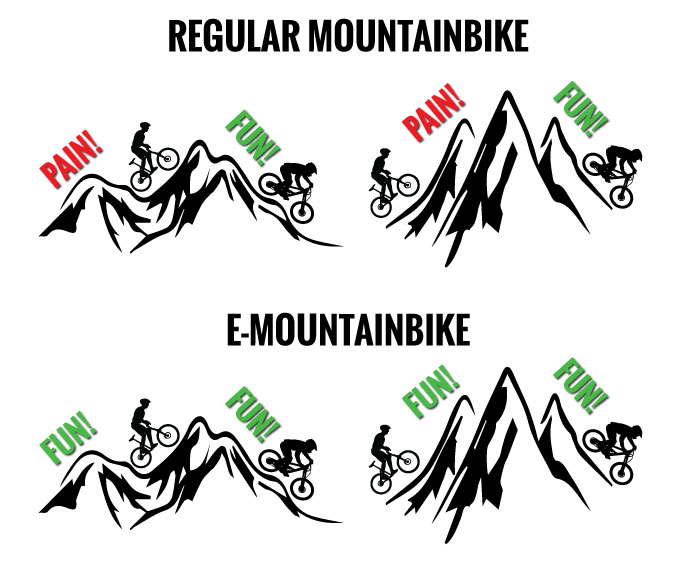 Many people like cycling and some love it. The difference lay mostly in our individual strength and the level of enjoyment is due to our fitness. When it's flat and easy and everything runs smooth as if we had tailwind, it is really fun. The resistance comes when we want more than what is physically possible.
The question is whether there is any quick solution for this? A shortcut to boost your fitness at a moment would be great, but as we all know, fitness takes a while to build up. So if you want to experience an adventure that only the very fittest bikers can achieve, an e-mountainbike is the answer.
The benefits are many, for example you can ride the bike together with others who have better cardio than you. If you already have a good level of fitness E-bikes take you on cycling tours in terrain and situations that are not physically possible, regardless of your level of fitness.
The bikes
We use bikes from Haibike, which is a German quality brand. They are of all mountain-, enduro- and fatbike type with suspension both front and rear.
We have carefully chosen these bikes for the guest´s security and experience that, of course, is our highest priority. They can handle the terrain we travel in with ease and much more if you like.
The electric engines are exclusively German Bosch and Japanese Yamaha that is reliable and ensures hassle-free tours with high quality. The engine is called a pedelec, which means they give you pedal assistance. Better explained is that the bike switch on the electric engine assistance only when you pedal and disconnect when you stop pedaling.
You can choose support level in four or five power modes, from a little to almost 300% and the feeling of "legs of steel" appear immediately. This means that our guests can have fun together, although completely different fitness levels, such as age and physical condition or ailments that make it difficult for normal biking.
Included in the tour
E-bike, helmet, backpack, water bottle.
On longer tours, you also have an extra battery in your backpack. Refreshments are included in the tour and contain coffee or tea and a bun or cookie (if you have allergies, let us know in advance so we can arrange it).
The groups
Minimum two and maximum four people is our basic idea. If you wish to have a private guiding or a bigger group, contact us for prices.
The guides
Our guide Jonny Öhrn lives in Riksgränsen and has more than 20 years of guiding experience in mountain tourism. He has done countless trips on snowmobile, skiing and mountain biking, both for work and private. Thanks to his notorious curiosity to discover the biking terrain in the area, we can offer tours that you never have the opportunity to experience otherwise. Our Tours range from easy to advanced. We also customize tours on request, depending on the guest´s experience, weather and conditions.
Your own equipment
It is good to have a pair of waterproof, solid shoes or an ankle boot. Rain gear if the weather is cold or wet. A warmer sweater or hoodie is nice to put on during the breaks or if it´s windy. Wear clothes that tolerate getting dirty, as a mountainbike spray up some dirt from the ground even though there are mudguards on the bikes.
If you have your own favorite backpack, you're welcome to bring it. Size suggestion is at least 18 liters and maximum 35 liters, but a borrowed backpack is included in the price. Bring your bike helmet if you like to use your own, otherwise you can borrow from us. Wear training- or bike gloves.
Pre tour information
We start with a short presentation of the guide. You will get the backpack, helmet and your e-bike. We go through the bikes and your personal settings, equipment, riding technique, things to think about, routing and the tour in general. Expect about 30 minutes for this.
Good to know
Make sure that you have insurance if an accident occurs. It is your own insurance that applies if an accident happens. As a guest, you are responsible for the equipment that you are handling during the tour.
Bikes and equipment are insured. If he equipment is damaged as a result of an unexpected situation, like a crash, a self-liability of 2500 SEK is payed by the guest. If the cost of the damage is lower than the self-liability, the guest only pays for the broken parts and labor to repair the damage.